Hi, I'm Nat! I work in games. Narrative driven games are my jam. Some of the games that have inspired me throughout my life are Fallout 1, 2 & New Vegas, Seven Blades, Final Fantasy 7 & 9, Way of the Samurai, Metal Gear Solid, Tenchu, all the Fables, Bioshock, Dragon Age, Mass Effect, The Witcher 3, and many of the Tell Tale games.
I'm now super fortunate to be a writer myself, thanks to my big bro/ boss. After never knowing what I wanted to do in my life, drifting from random job to random job including driving, ambulancing, gardening, expat-ing and blogging, I now feel lucky to have a job I actually care about and want to get better at. Working in games never even seemed like an option before and I'm grateful for the opportunity I've had.
As for what I do exactly – I run Lo-Fi Games, protecting Chris from paperwork and crappy admin so he can keep doing his thang making awesome games. I also work on Kenshi's game design, dialogue and lore. I handled Kenshi's marketing and community for five years as well, before our company grew too big and busy! Work's been pretty varied but that's the way I like it.
I learn best when I organise things into words on paper, so this blog is a lot like a journal of lessons learned and guides for me to refer back to. But if it helps even one new game developer out just a little, then I'm happy.
Random collections
I  hope I played my part in helping our company grow through some tough times during our very first launch; but most of all, I'm happy I made some people smile. These screenshots pick me up whenever I suffer from a good old-fashioned bout of imposter syndrome. Our fans' kind words do me more good than they'll ever know and I will never stop collecting them as my most valued awards! :')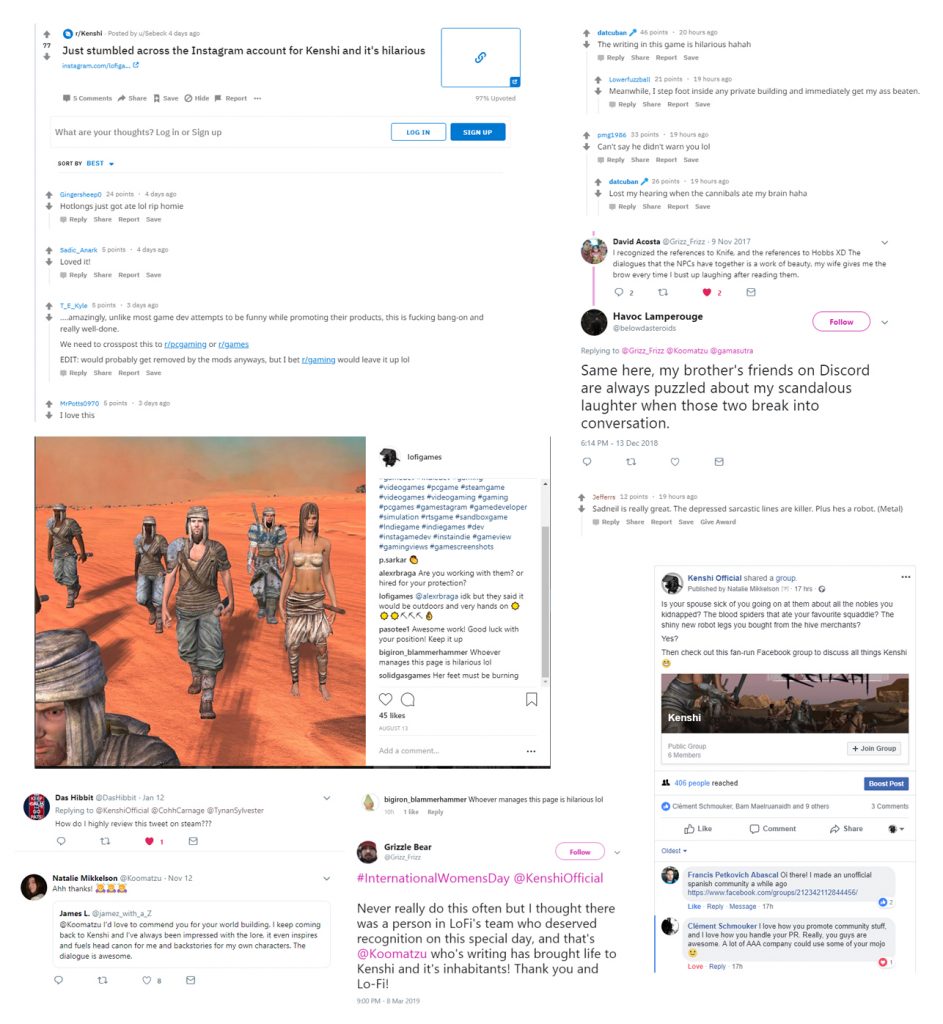 I also like pixels…