Video Game Localisation Round 2: China Edition
Over the last seven months, we've been working on increasing Kenshi's presence in China. As of today, China is now our top-selling country to date and game sales there have increased by a massive 4000%!
After translating Kenshi into several languages and releasing it in December, we found that China, a demographic we'd actually previously neglected, had crept up to fourth place in our top global sellers on Steam. China eventually fell back down to 10th place over the coming months, but the short burst of attention was enough to spur my interest in the Chinese market. But MAN, the games industry in China is a whole new world.
Chinese Games Industry
Until this year, China has made up the largest portion of the video games market in the world. Presumably, this dropped very recently due to a licensing freeze (see below) and so, as of 2019, China is the 2nd top-selling market for video games with a total expected revenue of $36,540M. The US sits at first place with a revenue of $36,869M. Still a pretty respectable portion despite its drop. Comparably, however, Chinese gamers statistically play considerably more MMO and mobile games. Hence why I neglected to localise Kenshi in Chinese. What a chump.
Entering the Chinese Market
Regulations in China are strict: No blood (green liquid, or 'slime', used to be allowed but as of 2019 this has been restricted to absolutely none), no corpses, no 'aggressive' language and, according to one Chinese distributor that rejected Kenshi, no visible bones either. And I'm sure there are probably more that I don't know about yet. So, due to Kenshi's.. er.. violent nature, it felt like Chinese publishers wouldn't touch it with a barge pole. Not to mention there were difficulties getting in touch with potential partners anyway, either they just weren't interested, or my emails were completely blocked.
Not only this, but even if you do follow a publishing route and hack your game to pieces to fit censorships, you still need to apply and wait for a license. Bear in mind that very recently, there was about a year's backlog during a freeze in license approvals. Regulations are getting stricter. It's a complicated process that is simply impossible without a local partner (for many transactions in China, even creating social media accounts, you'll need a government ID for the setup).
Steam In China
In retrospect, I think going forward without a publisher worked in our favour. If we'd altered the game to fit Chinese regulations, it would have changed the heart and core of Kenshi. Chinese fans may have felt betrayed by this… So we gave them Kenshi how it's meant to be played. Problem is, we only have one unofficial route left to reach Chinese gamers and that's via Steam, a current grey area in the Chinese market that Chinese players can only access via VPN. Steam is still at risk of being taken down and blocked in China, same as Facebook and Google, at any time. Once Steam is out of the picture, we're pretty much stuck.
But it's a risk worth taking.
Kenshi's Chinese Campaign
We contracted a Chinese video game PR company to handle both promotion and localisation of Kenshi into Simplified Chinese. There are completely different social media and streaming sites to navigate in China so hiring outside help was pretty crucial in this. Thankfully our PR had some great contacts, so we announced the beginning of the localisation to drum some initial interest and then focused on the release date. We entered Kenshi into various competitions such as Indieplay; took part in interviews; and lastly gave out keys to some prominent Chinese streamers.
Choosing the release date of Chinese localisation was key to the success of this campaign. After learning that the average Chinese shopper is pretty discount focused, we decided to participate in the Summer Steam sale. We launched our Chinese update four days before, on a Friday.
Sure enough, we noticed many appreciative comments for the update but, as expected, these same comments also mentioned holding off buying Kenshi since it wasn't on sale. We had a wee initial influx of sales despite this though, thanks to our Chinese press release and Steam update boost, but it wasn't huge. This gave our announcement a few days to shine so that it wasn't completely swamped in the Summer sale, but we still managed to capture the attention of those who were holding out for a sale while the news was fresh.
Nailing The Discount
Overall sales had slowly tailed off over the previous couple of months and just begun to steady out, so this actually happened to be the perfect time for a pick me up. Retaining the game's value is crucial, so the time was right, but how much to discount?
While I've found 10% discounts to be somewhat effective in the past, I feel like such small discounts can also feel like a slap in the face for players. So we went with 20%, a good sweet spot at the lower limit for a first sale.
The Juicy Numbers
And the results? Just as we'd hoped, the majority of our profits from the Summer sale came from China, but the interesting thing is that the boost lasted long afterwards as well. The strong sales we had while Kenshi was discounted meant that attention spread and we charted on Steam, so the extra front page boost and popularity is likely what helped fuel our sales post-discount as well.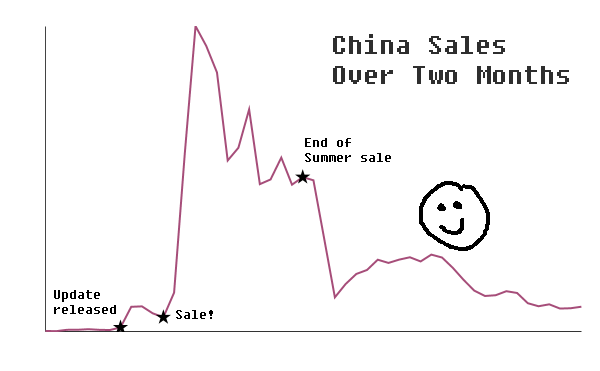 In the month after the Chinese release, Chinese sales made up 65% of our total units sold. It continues to be our top selling country in the world to date.
Summing up
So, our Chinese release has been a massive success well worth the comparatively small investment in promotion and localisaton: Don't underestimate good PR! Discounting Chinese updates also seems to be a no brainer when you look at our little pre-discount sales bump versus the post-discount surge. How long our success will last now rides on Steam's continued presence in China; all our eggs are in one basket here. The market restrictions are unpredictable so it's worth going in well aware of the risks.
The quality of our localisation in China was a whole other story… You can read about my lessons learned on game localisation here – Avoid poor quality translation and don't make the same mistakes I did!